VENTS CD REVIEW: Unity is Power by Vonj
Kenyan born UK transplant Vonj begins his new EP release
Unity is Power
 with the cutting funk bite of "Skin Deep" but the musical pyrotechnics never mask the deeper message his lyrics contain. One of the abiding characteristics of Vonj's songs on this release and earlier efforts alike is his willingness to mix in serious and personal messages with entertaining and imaginative musical structures. Often songwriters/musicians will forego one in favor of the other, usually opting to be entertainers without ever saying anything of lasting value, but Vonj blends these contrasting approaches into a satisfying musical presentation. His feel for funk music is never anything less than convincing and "Skin Deep" is, without question, the most raucous musical moment included on 
Unity is Power
.
Vonj uses horns in an attention grabbing fashion and there isn't a single track on Unity is Power showing off that penchant better than the title track. It jettisons the overt funk flavor of "Skin Deep" in favor of a well-rounded musical approach leaning, for the most part, on straight ahead R&B, as evidenced by the inclusion of horns. Cultural and geographical borders are no impediment for Vonj to explore these Western styles of music and, despite working out of the UK, Vonj's take on styles like R&B and funk is American through and through. It isn't difficult to imagine these songs playing well on American airwaves and they have tremendous potential as live numbers.
The lyrical message powering the song is important as well. Vonj never forgets he is writing for songs rather than the printed page and, as a result, there's a lot of uniformity between the words and arrangement. "Unity is Power", however, has a great deal of eloquence we don't often hear in modern popular song. "Are You Ready?" shares much of the same spirit. It's the EP's longest track by far, but the length does nothing to dilute the impact of what Vonj seeks to convey through his songwriting. The music and vocal reflects the urgency of the song's title without ever going overboard; many strengths define Vonj's songwriting, but his considered and steady hand rates high among them. The musicianship fueling this track is high quality from first note to last and, despite its longer duration, Vonj and his fellow musicians never lose the listener's attention.
The finale "Vox Populi" continues in the same R&B vein Vonj latched onto with the title track and "Are You Ready?", but he subverts listeners' expectations. The slow crawl characterizing much of the song's pace is at odds with the style's traditions, but you never get a sense Vonj is venturing far afield of the genre and running off the rails. Instead, "Vox Populi" has a sound all his own – Vonj, like any inheritor of tradition should, isn't mimicking the past, but instead takes up the mantle of those who came before and shapes the sound and structure of R&B to serve his own ends. His efforts are successful. Unity is Power shows an artist still in development, searching, refining his skills, and exhibiting exponential growth.
https://ventsmagazine.com/2020/01/06/cd-review-unity-is-power-by-vonj/
by Bethany Page
 

• Vonj Release "Unity is power"
Self taught Kenyan born musician, songwriter and performer Vonj relocated to the United Kingdom long ago and has made a mark with previous independent releases but his latest release, an EP entitled Unity is Power, illustrates the success Vonj has experienced developing his performing and songwriting talents in recent years. He works with a first class assortment of musicians sympathetic to his artistic vision and capable of making their mark while still framing the material in such a way Vonj's talents leap to the fore. Unity is Power perpetuates his songwriting message as well – a positive message quite different from the customary fare we hear from modern artists. It rings true, however, and never strikes listeners as an affectation straining to make an impact on its intended audience.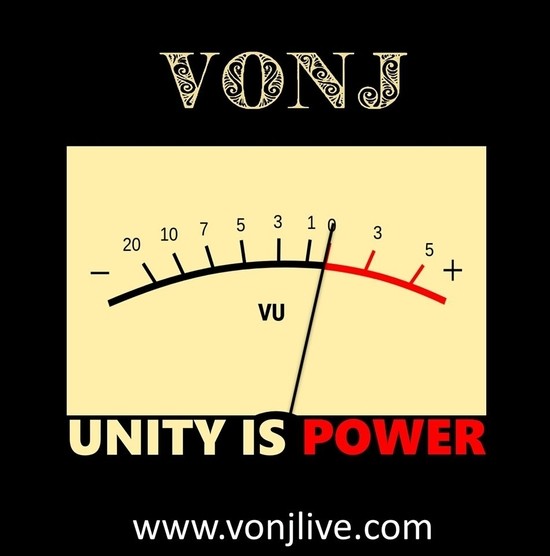 FACEBOOK: https://www.facebook.com/vonjproductions
"Skin Deep" is stepped in funk influences and the scintillating instrumental breaks built into the track pack quite a wallop. Vonj's impassioned vocal delivery never risks musicality in favor of physically connecting with listeners; Vonj, instead, maintains a deft balance between these two characteristics and it makes for one of the best performances included on the EP. The focus of the song is apparent, as well, particularly during the memorable chorus exploding its potential for anyone who cares to listen. The guitar plating on this track is top notch, but it's the rhythm section attack that's likely to stick with listeners.
Some of those funk influences are still present on the EP's title track but "Unity is Power" incorporates brass in a big way. It brings the song closer to a rambunctious R&B feel than funk, but the visceral connection between music and body defining the EP's music thus far remains intact during this recording. The rhythm section playing distinguishing itself on the first song has a more diffuse, less immediate impact on this track, but it nonetheless remains the foundation of Vonj's music. It is perhaps surprising this is the EP's shortest song, but it harbors an ample amount of snap thanks, in part, to its economical duration. Listeners continue to feel the same R&B influence exerting a hold over the track "Are You Ready?", though the brass has lower key quality than the aforementioned cut. The exhortative tone implied by the song title comes off well despite the song's running time; Vonj and his musical cohorts prove they can stretch their musical ambitions out to fill larger canvases without sacrificing their core strengths.
HEAR NOW: https://vonj.hearnow.com/
"Vox Populi" has a more foreboding character than any of the previous tracks but never succumbs to heavy-handed histrionics. Vonj and his collaborators come by the song's effects honestly – there isn't any crass manipulation of listener's emotional responses, no cheap gimmickry substituting for lack of songwriting and performing acumen. The R&B influences are a little more theatrical here than earlier in the release, but it nonetheless sounds part and parcel of the same musical vision defining the EP thus far. Vonj's Unity is Power solidifies his position as one of the independent music world's under-appreciated talents, a first rate musician and songwriting capable of appealing to wider audiences if afforded the opportunity.
Gwen Waggoner
Vonj releases new Music
There likely isn't anything in the musical realm Vonj isn't capable of. Session musician, songwriter, vocalist, and producer, the Kenyan native has worked out of England for some time now and surrounds himself with a five star cadre of musicians tuned into his wavelength and capable of matching his intensity and passion. The latest studio release from Vonj, the four song EP Unity is Power, finds this first class talent working at or near the peak of his powers.
He brings every ounce of himself to these songs; there's never a single moment during these four tacks when it sounds like Vonj is coasting or anything less than completely committed to pushing his skills to their limits. Vonj's Unity is Power arrived later in 2019, but it nonetheless ranks among the most compelling releases in a year full of such moments.
URL: https://vonjlive.com/news/
"Skin Deep" knocks you off your feet as an opener. The song engaged me from the beginning and Vonj has an effortless facility with this funked up style drawing listeners into his imaginative web. The R&B sound prevalent throughout much of the EP isn't as omnipresent here, but "Skin Deep" never sounds like some outlier track when taken with the remaining three cuts. Instead, it shows off Vonj's skill set – this is a songwriter and performer bound only by self-imposed limits and nothing else. Despite the entertaining texture of the track, "Skin Deep" shares with his other songs the same need to make a personal statement of some meaning and Vonj does so without ever dragging listeners down. I think it's one hell of an opener for the EP.
The title track is a masterstroke follow-up. The R&B sound mentioned in the previous paragraph comes to the fore with this track but Vonj's vocals are superb enough they never have to compete for attention with the song's horn section. The brass punctuates the song in emphatic fashion and, in satisfying ways, acts as Vonj's foil in a call and response vocal duet. The rhythm section stands out as well, they do throughout the EP as a whole, but the ballast they give the title song is important in determining its ability to stick in listener's memory. The chorus is, arguably, the finest such moment on the EP.
APPLE MUSIC: https://music.apple.com/gb/album/unity-is-power-ep/1493086363?fbclid=IwAR3noN6caqolhR9GRxDd8uqkghGE5yudb7I46Mz_F4RTmQ8qLG9qTqNGKag
"Are You Ready?" is another of the release's finest moments. Vonj could have did the obvious thing here and composed a paint by numbers anthem, but he produces a rousing track tinged with the same personal touch defining the EP's other songs. The track boasts another strong chorus, but I am taken with how Vonj and his musical partners build this performance in such an intelligent and thoughtful way while still physically connecting with listeners. The Kenyan born singer, songwriter, and musician has grown with each new release and Unity is Power is no exception to that upward trajectory/ Listening to this release makes me believe that, despite his great success thus far, Vonj has only scratched the surface of his considerable talents.
Jamie Morse
http://ventsmagazine.com/2017/05/12/cd-review-ruach-vonj/
"If music is from the heart then it will carry no impurity, this would mean that music can't be misused to fulfil any self-threatening intention, as the heart will never contradict itself, Negative intention surely arises from the delusions of one's thoughts for it is only in one's 'knowing' that springs truth." -VonJ
There is a truth to spirit and a spirit to truth, and that is what you take away from Ruach, the latest CD from VonJ. It kicks off with "Out Of The Mire" which has a cool tribal beat fade-intro. Once it cooks up you know it's on. The guitar starts to boil along with it and you feel like you're listening to either Santana in the late 60s, or the equivalent. But there are some harmonics applied that bring it into the twenty first century before some further bombast brings some vocals into it, and everything dies down into some sweet acoustic notes before it's over.
It is a pretty awesome opener to get you going, but it doesn't stop there with this dynamic multi-instrumental wizard. "Skin Deep" proves to rock hard as well, with even more soul because the vocals step right up and impress. And this one features killer guitar and bass solos. These guys have some serious cops that must be further explored. It is a fantastic unison display before going back into the vocal chorus, which just repeats the top little a few more times. There are a lot of tracks on this album, and only so much review space, but these two pump up the whole set with fury as the rock and swing with funky swagger. They simply can't be denied as the epic tracks they are, but this CD goes in several directions.
The jazzier side of things kick in on "I'm Coming Back" which gets into some great jazz guitar and sax interplay. It also manages to go in other directions as well. This is an amazing piece to say the least. It's about coming back to shock the world. A very progressive number that sort of ends without warning and contains very little vocals, not unlike the first track but in another musical galaxy. An out of sight one, at that. You just can't set it down after this. It is not something you get every day. The musicianship is impeccable, but the arrangements loose without being sloppy.
Other tracks like "Lady Night" are of the slower pace with more poetic lyrics, while "Trails Of Eldoret" bring out more Spanish guitar and very spiritual feelings. You get that same feeling with the coolness of "River Nun" as well, with its hauling horn and crashing cymbals. You get the feeling you're both inside and outside on this, as it holds some esoteric lyrics, a liquid bass line and some searing guitars. It pulls no punches, as does most of the disc. You can't help but get swept up into this if you're really a music lover of all types from mellow to hard rock, world and even some new age and spoken word, where it borders on defying categories. If none of that works, you're wired to the wrong device, as this is no swift show, it is a long player that will please without question, as long as that is your thing. And it can bring out the soul lover in any rocker and the rock lover in any soul, funk and world music lover alike.
It has everything from the lighthearted guitar of "Experience," to the upbeat and inspiring "Nu-Times." The use of all instrumental effects are applied with clever skill to make a sonically gratifying release that I'm sure holds up to Vonj works, so it should please anyone following as well as bring attention from whatever direction the wind blows it.
In-closing it is a great release, with the guitar being the strongest and the production being the weakest values, made up by some fantastic playing and singing by all and taking it out with a bold cover of "Superstition."
 by Larry Toering
http://www.vonjproductions.com
http://www.bandblurb.com/vonj-ruach/
Rauch is a CD that UK based, Kenya born Vonj puts a lot of heart and soul into another album with all he's got, along with guitarist Garry Milhouse and others. All of which are great musicians in their own right, and play together with major chemistry on what contains an awful lot of variety. And that means everything from Latic and spiritual music to a cover of Stevie Wonder's "Superstition."
Other tracks worth nothing are "River Nun" with its great twangy guitar sound and pretty horn and jazz drumming. It has a sound worth washing all over you, with some commanding vocals. It reminds of bands like It's A Beautiful Day, and even the Groundhogs. Also War, and Third World(without being reggae). But of course it's only inflections of the old weaved into something new. Music working its own tricks on the ears, for the most part. But it also makes you think while it makes you move. And that is a superior trick. And don't miss the talking part of this. It brings the whole album together and reminds you it is really all about something.
I-TUNES: https://itunes.apple.com/us/album/ruach/id1135630979
9/10
Kevin Webber
VONJ – RAUCH
TWITTER: https://twitter.com/vonjproductions
Vonj comes out of the UK via Kenya, and it's a good thing that it doesn't matter on his new CD, Rauch, if you've heard him or not. As long as you like all of the elements he brings with some equally talented musicians, you'll be wanting to check out more. The guitar in particular covers ground from Jimi Hendrix to John McLaughlin and even some Allan Holdsworth territory is covered for good measure. And if you like your covers reworked over to make a statement, then you'll get it all and more. This isn't a glossy produced work either.
It's pedestrian when called for, and polished when needed. There are good and bad cliché's to be found on most anything, but you won't find the latter here. The music appropriately begins with the smoking hot drums of "Out Of The Mire" and it's off to the races with congas and guitar fills to spice it up. The guitar fills are almost scratchy and it somehow adds an eastern flavor. But there is a lot of flavor to be tasted on this, and throughout every track as they fly by. This is not to go without mentioning several, and the burn up the speakers. Starting with "Skin Deep" with its monster bass grooves and extremely cutting edge guitar interaction. The thought that something can almost be too good, does go through the mind when hearing all on offer. You don't get this next door. The album just gets more and more layered without losing any attraction if you're looking for that, and who isn't once in a while. You get the luxury of both playful jamming and serious musical workouts on most of these songs. With something like "Gold Rush" to simmer the jazz-heavy arrangements with a more down to earth rocking style, where you get a more gut-level vocal approach. It gets into not being fooled by the ways of the world. And if you are a bass junky, this will put a smile on your face, as it gets downright funky to the max before it gets back to the great advice worth listening to. Grab it and don't let go of the soul. "Brilliance Street" is also a cool jazzy track to crank at high volume and get the blood pumping at any given hour. This is another slamming track with all of the collective elements the album contains in one statement, as it is the vocals that cover the most ground on it. But it's about balance, and it does still find some. But it's pretty hard to find anything out of place on the album. There isn't a lot of room for change or improvement, it's too well put together in both concept and studio performance outcome.
It's a long ride but an intended one that cuts like a knife without making you bleed. A truly spiritual effort. Another highlight is "Trails Of Eldoret" which is a guitar instrumental, so I don't know what it's about, but it's an eloquent piece that adds one of several accessible gates to and album that doesn't even need them. It just goes to show how many bases they cover.
But audiences for music of this sophistication level are vastly thinning out, so, Vonj is good to still have a round. It closes with a cover but not a typical one, of "Superstition" by Stevie Wonder. And this has also been a thing some are insisting on doing lately, that have nothing to do with the rest of an album. But as long as people are making it their own and not doing carbon copies, I approve. And this one is worth hearing, but could as easy be a bonus track.
AMAZON: https://www.amazon.com/Ruach-Vonj/dp/B01J6MQNZS
10/10
Randy Jones
http://www.indiemusicreviews.net/vonj-rauch/
Kenya native and UK based multi-instrumentalist Vonji Uzele has a steadily growing discography featuring his varied talents and the latest release in his career, Ruach, is a thirteen track outing featuring the talents of guitarist Garry Millhouse, saxophonist Carmine Manfredi, and drummer Martin Donovan. Producer Mat Diamond has done an exemplary job of bringing outstanding sonic clarity to this often challenging music and his influence clearly strikes up considerable chemistry with Vonji and his musical collaborators. There are some strong influences circulating through this collection, but Vonji has a wholly individual sound filtered through those colors and no one can accuse him of lapsing into self-indulgence and imitation. This isn't music pandering for commercial attention; instead, Vonji is working in a realm all his own and the iconoclastic slant he brings to this work will leave a lasting effect on any music devotee. Ruach is thirteen songs with a lot of punch and musical variation that few artists, at any level, can readily match.
The album opener "Out of the Mire" begins with intensely rhythmic percussion, acoustic instrumentation, and sharply angular guitar work gaining power as it progresses. It's an instrumental track, but there are choral voices employed that sweeten the often fiery performance. The track is relatively short, but it makes maximum impact within less than three minutes. The terse and intensely melodic guitar opening "Skin Deep" is soon joined by a more lyrical lead guitar snaking over the top and segues into some impressive flourishes. The vocal contributions to the song have a nicely exhortative quality and the chorus underlines those elements without ever pushing too hard. It's hard to resist the emphatic passion coming from every passage of this song. The powerful bass playing in this song is given a prominent position in the mix and works quite well with the lead guitar and rhythm section. "Gold Rush" has a much more straight ahead rock and roll attack and foregoes the experimental edge we've encountered on the album thus far. Vonj's vocals veer from an impassioned bellow to snarling raucousness.
"Amnesia" has a decidedly dream-like, laid back vibe vaguely reminiscent of Jimi Hendrix's work, sans guitar pyrotechnics. Vonj and his collaborators frame the echo-laden guitar work in imaginative ways and the song gradually sharpens its experimental edge as it progresses. One of the album's longer songs, "Vox Populi" begins with some sternum rattling bass moving at a leaden, deliberate pace and accompanied by understated drumming. The introduction of a growling sax line darkens the texture some, but Vonj's clear vocal pushes back against that darkness and balances it nicely. There's some particularly strong guitar work in the song's second half and the vocal arrangement serves the track quite well throughout. In some ways, Vonj and his collaborators are reminiscent of The Mahavishnu Orchestra's prime work and few comparisons could be better. This is a powerful musical release on every level and, while it has little commercial appeal, it hits home with those who love music as art.
9 out of 10 stars
Jason Hillenburg
https://skopemag.com/2017/04/06/vonji-ruach
I really did not know what to expect before listening to Ruach by Vonj, a Kenya born artist now living in the UK. Looking at his website made me prepare myself for ambient or even meditation music. Well only after a few seconds listening to Ruach I knew my supposition was way off.
What we get on this very good album is a mixture of R&B, Jazz, Pop, Soul, Blues, Hard Rock and even a hint of Prog.  Vonj is the main man of this musical project. He plays Bass, Guitar and is also the lead vocalist. He is a great lead singer. To me his voice is pretty close to George Benson's, but Vonj often sings with more muscle than Benson. His guitar playing, always excellent, ranges from very smooth and silky to almost Hendrix like at times, and he shows equal dexterity on the bass. Vonj is supported by excellent musicians on percussions and drums with Carmine Manfredi contributing some cool saxophone on the jazzier tracks.
As much as I can tell all the songs (but one) are original compositions, covering a variety of genres while still remaining coherent enough to give Ruach an album feel, not just being a collection of  tracks. The last song, a cover of Stevie Wonder's "Superstition" is done in a bluesy way that made me completely rediscover it. A great finish to an excellent album.
Ruach is perhaps not the proggiest album I will review this year, but it is certainly one I will continue to listen to on many occasions. Highly recommended indeed.
https://www.proggnosis.com/Release/49346
Owen Mattheson's Ruach album Review from Gas house radio, Philadelphia.
http://gashouseradio.com/2017/03/vonli/
Vonj Uzele is a native of Kenya and lifelong musician with five full-length albums up to-date. For this most recent album, titled Ruach, meaning Spirit, Vonj enlisted the impromptu aid of percussionist Martin Donovan, saxophonist Carmine Manfredi, Drummer Mat Diamond and Spanish guitarist Garry Millhouse.
Ruach is thirteen tracks of musical charisma, sophistication, and uniqueness to the extent of which a majority of people haven't been exposed to since the mid to late sixties. Skilled improvisation matched with equal parts spirit and personality burst from every composition; there is a lot of "musical bravery" in this album, ranging from experimentation with acid-jazz like dissonance, to incredibly dynamic and unorthodox song structures where about two or three different experiences can be gathered from one four-minute track. One of the many examples of such a shift, from Edwin Starr-like soul vocals and instrumentation to a swirl of free-form/acid jazz and psychedelic rock is the second track, "Skin Deep". Songs such as "Gold Rush" demonstrate raw, fuzzy guitar riffage and commendable soul-influenced vocal talent that is refreshingly familiar to the inclusive and eclectic musical experimentation that was evident in sixties and seventies jam bands like The Grateful Dead or the Allman Brothers. Perhaps this musical conceptualization is most apparent in the six minute piece titled River Nun. An improvisational mix of psychedelic rock, soul, jazz, and even hints of funk, the track stands without a doubt as a unifying and mesmerizing spiritual journey that seems to emanate a since of musical togetherness and groove that is rare to come by and expect from modern musicians in a Western society. In short, there are so many different components to Vonji that it is difficult to fully comprehend every dynamic and experience the album has to offer. From sophisticated modal guitar playing, to unorthodox percussion and drumming, to elements of Eastern musical philosophy and psychedelic rock, there is without a doubt something in here for anyone to appreciate, and the great level of charisma and talent among these artists is unmistakable.
The musical objectives of Ruach are, at heart, incredibly charismatic and sophisticated. The playing is so dynamic, eclectic, and experiential that the group seems to forge their own genre out of about four or five existing ones. To most people, especially an average individual whose musical interests might be somewhat limited, comprehending and conceptualizing thirteen tracks of Ruach's music is going to be somewhat of a challenge. The music is so multifaceted and dense that those lacking significant patience and understanding probably won't last through about the third or fourth song. Basically, this type of music, although incredibly skilled, sophisticated, and designed to bring people together, is unfortunately only going to be thoroughly appreciated and listened to be those of a particular personality, perspective, and worldview who generally have the patience to see past instant-gratification in their sensibilities and see music more as a true art form as opposed to a mere source of entertainment. For this reason, like acid-jazz fanatics, dead-heads, and other specific music fans, Vonj and their album Ruach is somewhat of a niche work, despite how quality it is and how much it should be commended.
Ultimately however, the mainstream success of these tracks or lack thereof is probably of little importance to the sort of musicians that would create an album such as this. Vonj Uzele's aspirations are far different than those of a marketable artist. The goal here was to create a musical journey to bring people together and hopefully work toward a sense of communal enlightenment and togetherness. For all those that are proactive enough to listen to the message, this album is, without a doubt, a shining success.
Owen Mattheson.